For Release
LUBBOCK, TX — JULY 16, 2018
Director's Choice announced today the recipient of the annual Driver of the Year Award. Long time, local motor coach driver Rickey Bessent and New Mexico Texas Coaches out of Lubbock, TX, were awarded for going above and beyond to enhance the travel experience of band and choir students.
Bessent was nominated by more than once Director's Choice student group leader for his personal care of all passengers during the spring 2018 travel season. All motor coach drivers who cared well for a Director's Choice group traveling March – June 2018 were eligible to win. This year, Director's Choice had over 60 driver nominations from across the nation.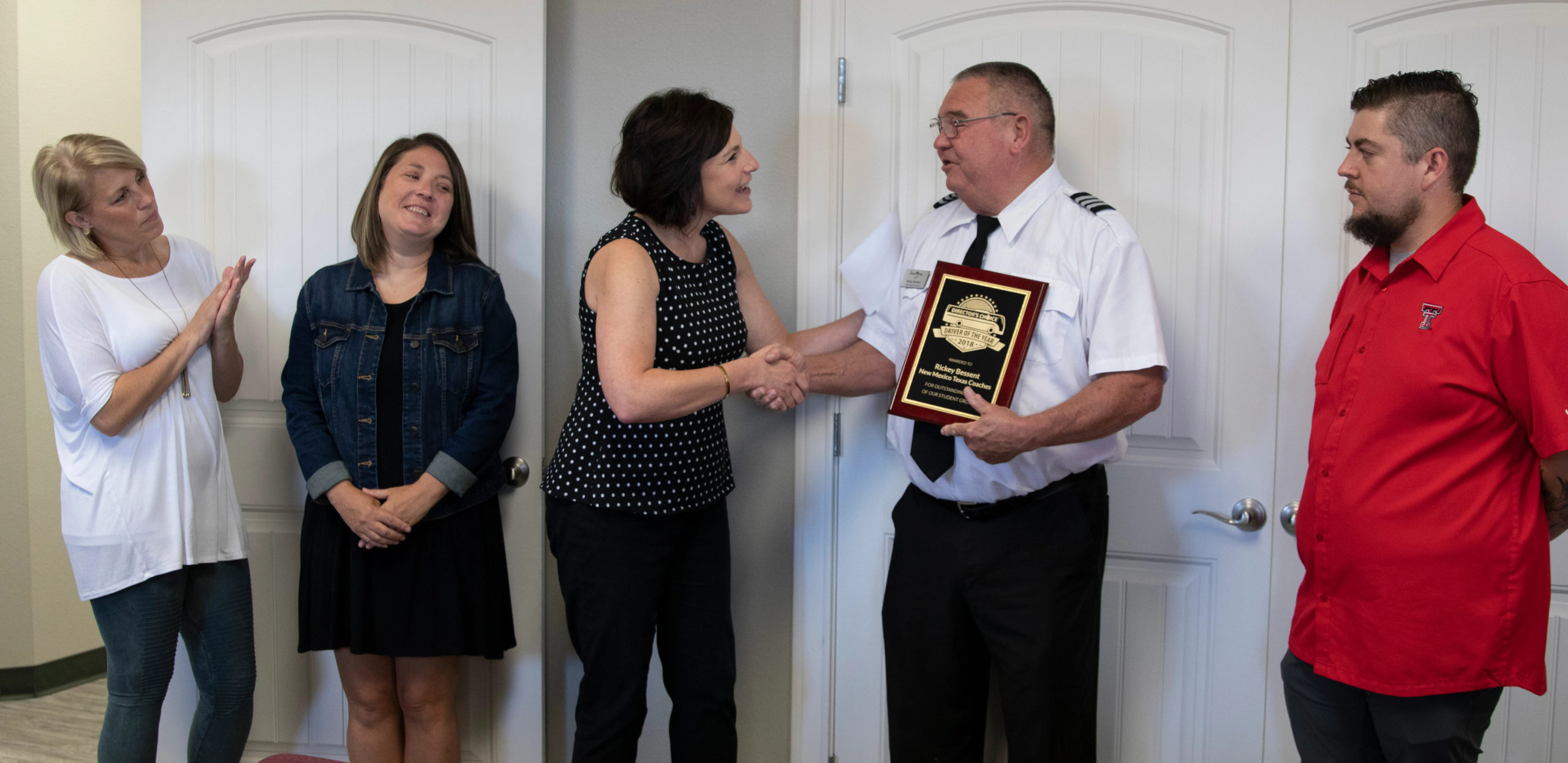 Jennifer Berg, Hereford High School Choir Director, nominated Bessent, "We were so at ease with Rickey driving. He treated my kids like he was their dad. He was so kind and took care of everyone really well! He was always on time the first time!"
"Rickey was very pleasant to work with! He visited with the chaperones and interacted well with the kids. He made our trip OVER THE TOP enjoyable!" wrote Stazie Church, Stanton High School Band in her nomination.
Jon Locke, owner, and CEO of Director's Choice says the Driver of the Year Award was born from the need to focus on great motor coach experiences. "We are making it a priority to celebrate and thank the dozens of great drivers who make a real difference for our traveling students," said Locke.
Director's Choice carefully vets all their motor coach partners, taking necessary precautions to make their student trips safe and memorable, and New Mexico Texas Coaches has been a great partner.
"Our company motto at New Mexico Texas Coaches is Safety is our Favorite Destination," said Ellen Tedder, Operations Manager at New Mexico Texas Coaches, LLC. "Rickey, a ten year veteran with the company, strives to live up to our safety expectation every day."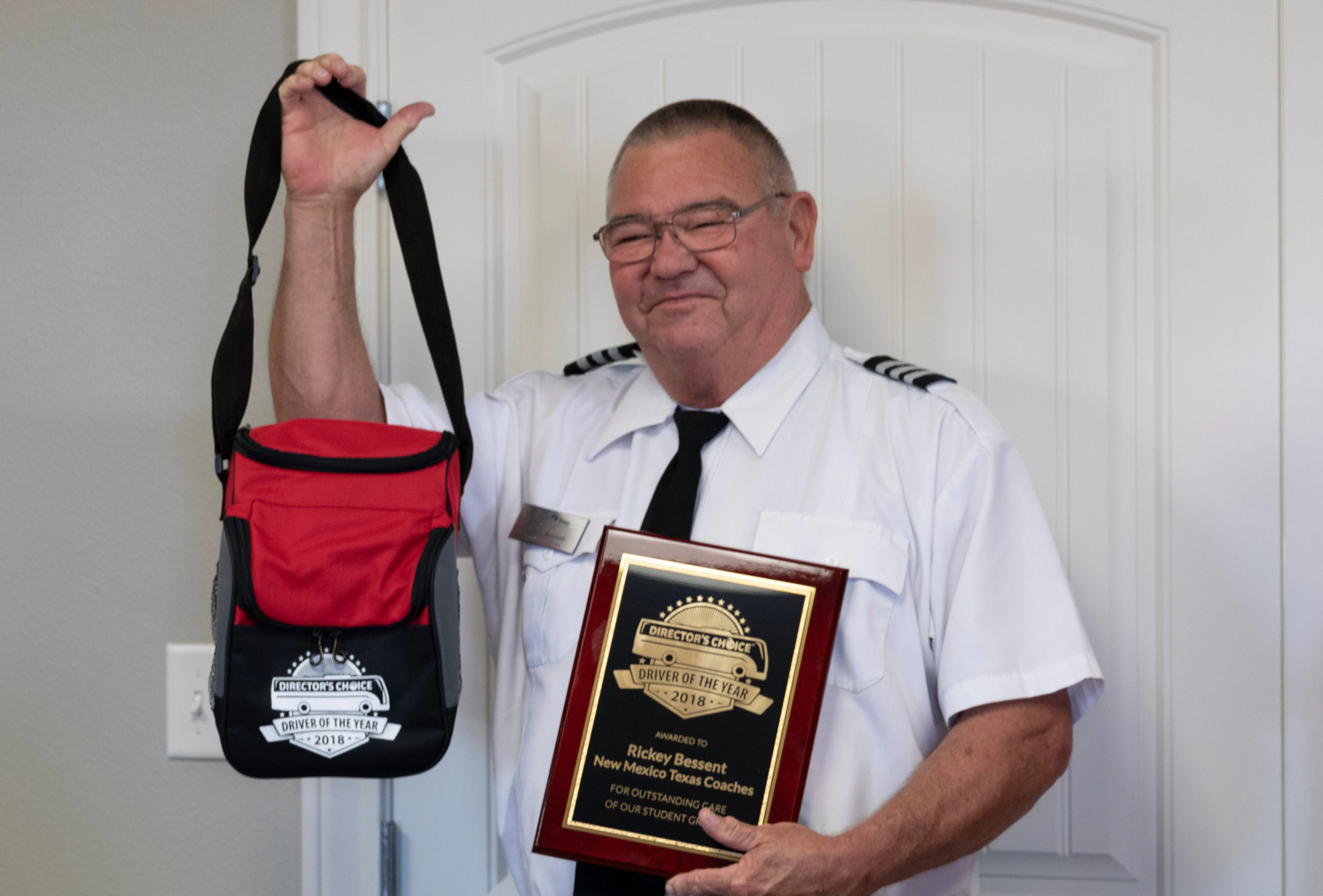 Director's Choice, a Lubbock based student travel and performance events company, takes over 60,000 students each year to destinations across the globe. Director's Choice considers their motor coach suppliers an extension of their own company, that's why they are bringing attention to those individual drivers who make their student trips a meaningful and memorable experience.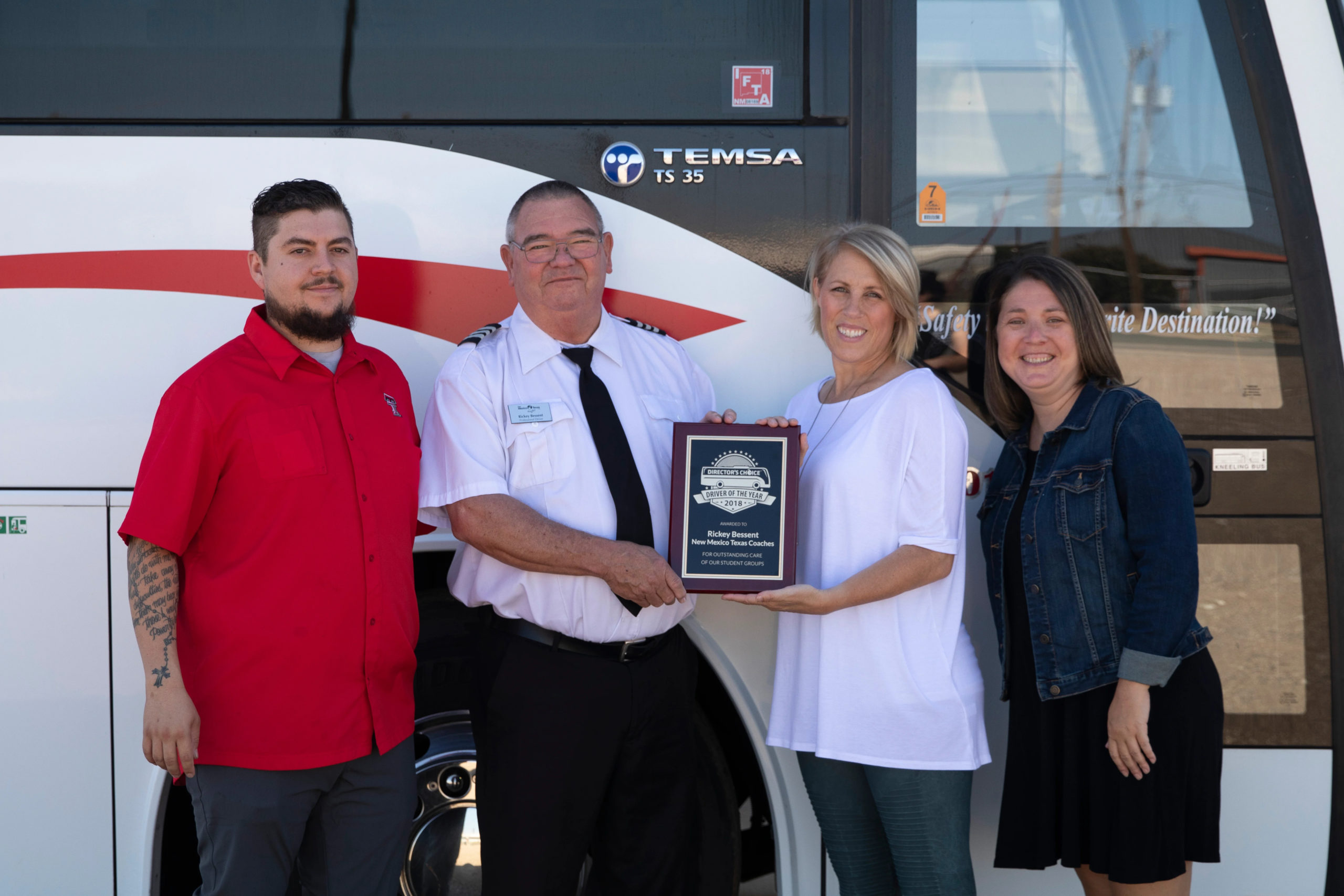 Locke says he is encouraged by the dozens of driver nominations from group leaders and how the motor coach industry has embraced the Driver of the Year campaign, "I hope that this small initiative is the beginning of a big industry-wide change that rewards our faithful suppliers and makes great memories for our young travelers."
For more than 20 years, Director's Choice has helped educators deliver memorable performing arts experiences. As an accredited member of SYTA (Student & Youth Travel Association), Director's Choice meets strenuous ethics, safety, and solvency requirements and is a long time advocate for the student youth travel industry.